Acronis True Image WD Edition NOTE: Acronis True Image WD Edition is for Western Digital hard drives only.For those people that don't know, "Western Digital" is a company that manufactures hard drives. You can try to use this on a different hard drive brand at your own risk (some people say it works but I cannot verify that). Yes, the record/cache, call it what you will must still be 'held' somewhere within Acronis but where? The only partition/s being imaged are the small system reserved and main the 'C' partition (which is where Acronis lives of course). These ghost folders will only show when an image is restored.
Regular Poster
Acronis True Image 2020 Ghost
Comments: 168
Quick version... I notice that whenever I restore an image, that Acronis then repopulates the backup destination folder with seemingly every backup task I've ever created, even though these are long gone and deleted.
Is there any way to delete this cache manually ? I do not want to do an uninstall and reinstall of TI though as this was a super clean install of the product and OS.
More detail... I run TI daily making chains of incremental backups. One chain per week, 4 in a month. As each week rolls by I delete the task from TI and set a new one up. The backups stay in place and are deleted only to make room for the next sequence.
It all works well UNTIL I restore an image. As soon as that is done, the destination folder gets populated with empty folders all relating to long deleted tasks and backups. I manually tried clearing the TI log a few weeks ago but on restoring an image yesterday I see all the 'ghost folders' are back. If you look at the dates in the image you will see they were all created yesterday ! and yet they are long since deleted from TI's control panel and long since gone from the destination disc.
I can delete the folders and they stay deleted until the next time I RESTORE an image. That is the point they appear again.
Apart from the November Incrementals these are all empty folders.
There must be a cache of these tasks somewhere, but where ?
(As I say, I don't want to start reinstalling the product because apart from this its pretty much perfect and performs faultlessly as a backup/restore system)
TI build 6673
Forum Star
Comments: 1344
Greetings,
If the files are coming back, then they must exist on a disk or partition that is being imaged. I use a similar scheme on one of my machines. Weekly full, daily incrementals, 4 chains with 1 month retention. Oldest chain is deleted every 5th week.
Regular Poster
Comments: 168
Acronis True Image Ghost
Yes, the record/cache, call it what you will must still be 'held' somewhere within Acronis but where ? The only partition/s being imaged are the small system reserved and main the 'C' partition (which is where Acronis lives of course).
These ghost folders will only show when an image is restored.
Forum Star
Comments: 1344
Hi,
Acronis doesn't generate data, and we know these files don't exist when a back up is performed. They appear after a restore.
I don't see any way that windows would be cacheing these folders...
So, they are coming from Acronis, but are a result of a problem with the .xml database file acronis uses to store back up information.
I have never seen this happen on its own. I suspect you may have deleted these folder or files in windows explorer (previously) instead of inside the Acronis program? Acronis believes they are there. This is the only explanation. We do not recommend modifying the database. if you want to resolve this, The best way will be to uninstall, run the clean up utility and reinstall. You can export and import your tasks if you wish.
Z390 AORUS PRO (F10) 850w, 9900K, 32GB GSkill TriZ RGB - 16-18-18-38, RTX 2080 FTW3 Ultra, 960 Pro_m.2, W10 1909 - NAS QNAP TVS-473e - 11TB / TS-219PII 4TB, Phone Pixel 4 Android 11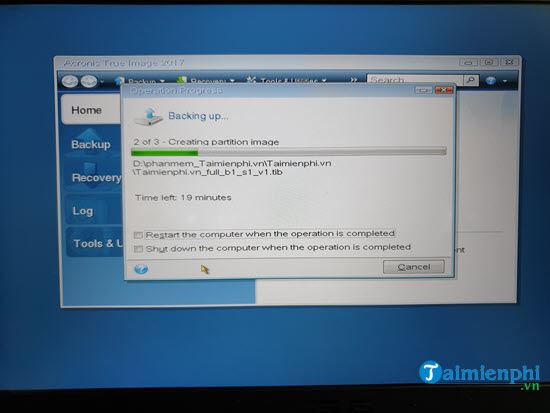 Regular Poster
Comments: 168
Interesting, thanks. You might have given me an idea actually.
Yes, I do delete backups with explorer (always), the reason being simply that after an incremental sequence is due to be replaced by the next newly created one, I then use 'remove from the list' option (so the backups remain in place but don't show in TI). I never actually repopulate TI's list with them so that I can delete them. I use explorer instead.
Next time I do a restore I could try getting TI to search for all backups (presumably it would pick these folders up) and then delete them from with TI.
Forum Star
Comments: 1344
Great, that confirms it then. The entries remain in the XML database even though they have been removed from view.
Here is a brief description on deleting back ups from MVP Super Hero Grover H.
Regular Poster
Comments: 168
Success I think, thanks to you mentioning XML files. (I had a look at Grovers method but it wouldn't delete the folders).
Gory details, I tried simply adding the folders back to Acronis. No go. Because they are empty they are not available to 'add to list'. Then I had the idea of saving a notepad file as a .tib and pasting into the folder/s. That worked up to a point until Acronis said it wasn't a valid backup. Not unexpected I suppose. So I tried again with a tiny but valid .tib and that allowed the folder/s containing the file to be added and to (so it seemed) be selectable and deletable via the TI interface. Except they didn't. The .tibs were deleted but not the folders.
More thoughts... I browsed the registry (not that I would have wanted to delete any keys without being 100% sure) and found entries for the backup locations and even a couple of actual named backup folders. Only a couple though out of many many ghost folders. Not on the right track.
Acronis True Image Vs Ghost
Next to another look at the program files... nothing there of interest.
User data... what about unhiding protected operating system files ? YES :)
Under c:all usersAcronisTrueImageHomeDatabaseArchives was the XML file and it seemed to have all the entries for every backup folder ever made. Because I didn't need to add of modify any of my existing backups (I have recovery images on another small partition) I simply deleted the XML file. Having done that I opened Acronis and let it repopulate what it found and then I just 'deleted from list' on the TI interface.
As a test I made a new image and then recovered it. Result was just the single new image showed in the correct destination folder. All the other folders are gone.
(It will be interesting to see if deleting this image via TI really does remove the entry fully. I won't know that until I next restore. If not then its an easy fix now)
Thanks for putting me on the right track.
Regular Poster
Comments: 168
And a discovery.
I've deleted my single test backup file using TI interface and find there is no entry for it in the XML file. However the folder containing the (now deleted) backup is still present.
I wonder... because this is not now in the XML file it should be OK and permanent to delete the folder via explorer.
Forum Star
Comments: 1344
Acronis True Image Vs Norton Ghost 15
Mooly,
Hey, great work! I had forgotten that the XML file will rebuild if deleted and a re-scan is forced. Although, I'm not completely sure the resulting file is re-created 'cleanly'. I've not spent any time troubleshooting as I use a boot CD the majority of the time. I any event, your time is certainly appreciated and may help others.
Acronis True Image Vs Norton Ghost
Z390 AORUS PRO (F10) 850w, 9900K, 32GB GSkill TriZ RGB - 16-18-18-38, RTX 2080 FTW3 Ultra, 960 Pro_m.2, W10 1909 - NAS QNAP TVS-473e - 11TB / TS-219PII 4TB, Phone Pixel 4 Android 11