Steelcase Think Task Model V2
I kind of hate this chair. It's billed as something of a hybrid between a self-adjusting design, and something more fully-featured. Unfortunately, I don't think they struck the right balance between those extremes. The Steelcase Think is a high-end chair with a price to match, but it's lacking some of the important features you might expect at this price point, and the self-adjusting mechanism never felt quite right to me. I was always wanting to adjust the tension to a midpoint between their pre-selected options, and it kind of drove me crazy.
The redesigned Think chair; a chair intelligent enough to understand how you sit, and adjust itself intuitively. The Integrated LiveBack™ System conforms to.
Description The Leap Chair V2 by Steelcase was built on a model incorporating the most ergonomic and comfortable features in contemporary seating technology. Its back changes shape to support the entire spine, its Natural Glide System allows you to recline and yet maintain your position so you stay oriented to your work.
Saturday 3/13 - I placed an order for a Refurbished Steelcase Leap v2, the price couldn't be beat elsewhere online, and the positive reviews here along with their warranty/return process made me comfortable. I didn't get an opportunity to test the chair in person, so I was trusting the tons of reviews online that this chair was great.
Still, the Think Chair has a lot to offer, and it's certainly not profoundly uncomfortable, featuring a soft cushion and a self-adjusting backrest, composed of tensioned wires that conform to your back without any unwanted pressure points, and the armrests are some of the best in the business. It's just not going to offer the fine-tuned fit of a more adjustable chair, making it a little more suited to shared seating, or those who just happen to like the limited range of adjustments. If you happen to fit within them well enough to be comfortable, it can work for you, so let's dive into the details.
But first a closeup shot:
The Steelcase Think Chair, in review
Starting with the most significant feature, which is the…
Recline style
This chair appears at first glance to be a backrest-tilt only, which has never been one of my preferred recline methods. The further you lean back, the more you'll start to feel as though you're sliding forward out of the chair. A backrest tilt really needs to be combined with a seat slider or a synchro-tilt mechanism, either of which will reduce or eliminate that forward-moving pressure you feel as you recline.
And this chair does have a seat slider, kind of…but it's so minimal in its forward movement that it doesn't really take the pressure off that forward-sliding sensation, and to be honest, I could barely tell that it was there at all, at first. Plus, it actually moves up, which is rather odd. I expect the idea here was to counteract the "sinking" feeling you get when reclining. At a full recline, your shoulders would ordinarily sink a couple inches lower than where they started, but with that seat rising upward as you go back, it'll prevent this from happening. If you're typing with your arms up on a desk, for example, or just sitting there, you won't feel like you're sinking downward when you sit back, and it can be nice for maintaining eye contact in a meeting, for example.
Steelcase Think Task Model V2 User
This is…okay, I suppose. It does raise the armrests about an inch at a full recline, which can be something of a problem if you're leaning on the armrests while typing at the same time, but my biggest issue with this recline mechanism is that it accentuates the "lumbar gap" problem. When you're sitting upright, your lower back will stay in contact with the lumbar region of the backrest. If your seat goes up an inch, you're then out of position. This is especially true as you recline further, since a backrest-tilt mechanism usually creates a lumbar gap problem on its own anyway, which is further accentuated by the seat riser, meaning that at a full recline, you'll get a literal air gap in your lower back area, with no lumbar support whatsoever. If you need significant lumbar support and like to recline, this is definitely not the chair for you. The optional lumbar pad, while nice in theory, does nothing to stop this. At a full recline, you won't even be in contact with it, at all.
This would actually be fine if the lumbar arch were a little more aggressive to start with, but this isn't a particularly significant angle, meaning that as you go back, it'll drift too far away from your lower back to maintain support:
To be fair, it's not "bad," but I would much prefer a synchro-tilt mechanism, as found on Steelcase's Gesture, or a more significant seat slide mechanism (combined with continuous lumbar support), which is the case with their Leap chair. Those are absolute favorites of mine, each in their own way, so definitely give those a look as well.
Adjustments (and tilt stops)
This chair is semi-self-adjusting, which is a good idea in theory, but I think they could have expanded the manual adjustments by one or two more steps to provide a more precise feel. The backrest relies on a user's body weight to set the tension, which can then be fine-tuned with a single knob along the side, which allows four recline tension (or tilt stop) levels: Nearly upright, halfway upright, fully reclined (but with resistance), and fully reclined (with little or no resistance).
You can see that single knob along the right side (along with the seat height lever right next to it, and the seat depth slider in front).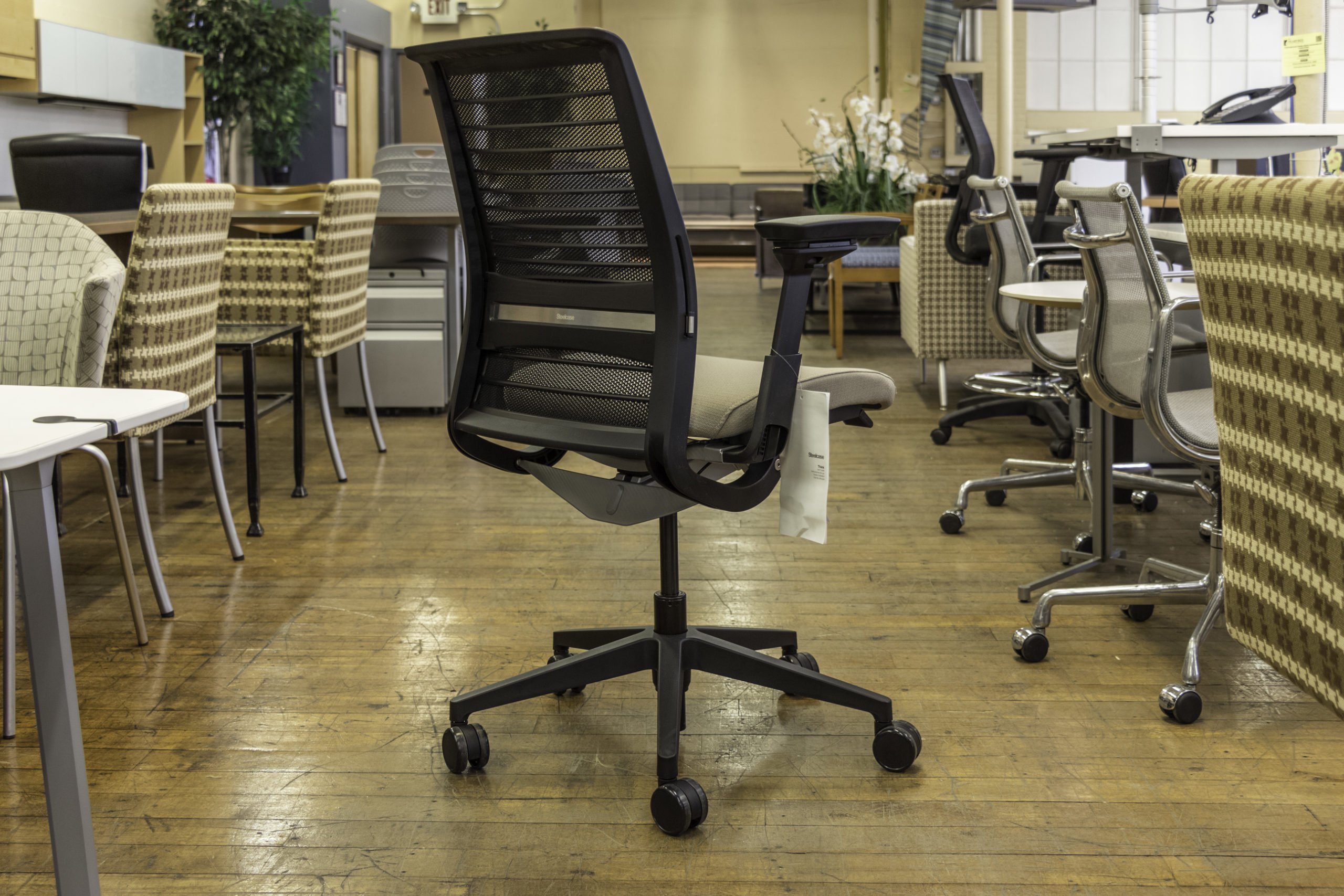 I didn't find just these four recline adjustments to be enough. First of all, I think a fully-upright option would be kind of nice, in addition to the nearly-upright, which is the closest you can get.
Secondly, the last two stages, which allow full recline, are where I would have preferred an extra level in between. The high-resistance stage feels quite resistant, almost like it's springing you forward, but only towards the end. In the beginning it'll just fall backward, as the tension isn't constant throughout the recline. You just fall back until the tension kicks in, and then it'll stop you from going any further. For me, this was about halfway reclined, at which point there was so much resistance that it was hard to sit still with any kind of stability, as it kept pushing me forward, which I found rather annoying.
It was a "soft" stop, which was nice (relying on the tension, rather than a hard limit of hitting a plastic stopping mechanism, for example), but it often felt like I was fighting the chair to keep it from moving around, and I wanted to sit just a bit further back, but without the chair shoving me forward.
Also, because it offers very little resistance until you reach this stopping point, it kind of just falls back to that angle, about halfway reclined, and it's hard to get it to stay in any other position. It's not a bad position, but it's kind of the only one you get unless you adjust the knob to a different setting.
The fully-reclined stage with no resistance just drops you all the way back to a full recline. Instantly. You have to clench your abs to stay upright, which makes this option good for lounging, and that's about it. It really would have been nice to have an intermediate stage between these two, along with continuous tension throughout the recline.
Other adjustments include a seat slider, and height adjustment, both of which are useful for people of varying height. The lumbar support pad is also height-adjustable, and although it's useful for that halfway-reclined stage, it becomes largely irrelevant when you're fully reclined in the final, no-resistance recline stage.
Armrests
The arms are some of the best in the business, with adjustments in four dimensions; up and down, forward and back, left and right, and swiveled. The swivel goes either inward or outward; the inward method is great for typing, while the outward method is great when you've got a mouse at the edge of an extra-wide keyboard. You can get this chair with cheaper armrests or no arms at all, but once you go with armrests this adjustable, it's hard to go back.
Here's in and out:
Steelcase Think Task Model V2 Manual
Front and back:
And swiveled:
Notice how aggressive that swivel can get, which is pretty nice.
One of the odd things about these armrests is how they don't quite move along a perfectly straight track; when moving in and out, they go along a half-circle sort of line. This interference means you can't move the armrests inward (close to the body) and then also swivel them inward, without the armrests moving backward a little bit. It's not bad, but it's a little odd, and might be just a teensy bit difficult for smaller users to get that perfect adjustment.
Don't get me wrong, they're really great, but a couple other chairs allow the dimensions to adjust independently of one another, such as on the Steelcase Gesture, which uses an entirely different system to accomplish the same thing, and doesn't have that semi-circle tracking quirk.
The armrests follow the angle of the seat itself as you recline, meaning that because of that seat riser mechanism, they move up just a bit, raising the front part of the armrest about an inch at full recline. This is a little tricky if you're trying to type, but if you're partway upright, the change in altitude will be minimal.
Notice how they attach to the seat, not the backrest:
When you're fully reclined, however, you're going to be further back and away from the armrests than when you're sitting upright. This is true of most chairs, but it's especially true here, where the backrest goes back, and the seat goes up and forward, meaning your upper body will pull backward from the armrests as you recline, more so than with most others I've seen, and your elbows are likely to fall off the back edge. Again, a synchro-tilt mechanism would fix this, as well as a couple other alternative recline mechanisms.
Lumbar support and backrest
As mentioned, the lumbar support is another weak point for me. The further you lean back, the more of a gap there is between your lower back and the backrest. And no, it's not fixable with the optional lumbar feature. That's just a height-adjustable support beam, and as you recline, you simply lose contact with it entirely. At halfway reclined, it can be fine, but not when you're all the way back.
If that lumbar pad could adjust forward or backward, or if the entire backrest could flex forward in that lower back area, or it simply had a more aggressive angle to begin with, it might work…but it just doesn't.
Overall I do like the backrest itself. It has some flex, accommodating side-to-side movements, rather than being rigid and requiring a perfectly straight-forward sitting position, and despite being composed of horizontally-tensioned wires, it's actually quite comfortable. The cushioned versions are going to hide the sensation of those wires better than the see-through meshy options, and it really does feel as though the backrest conforms without any pressure points.
Still, it doesn't solve the lumbar gap problem. It's not a huge gap, but it starts to lose lumbar support once you're about halfway reclined, putting pressure on your spine. If you're the type to prefer little or no lumber support, or you just happen to have a particularly straight back, it'll work out much better; but if you prefer more aggressive lumbar support, especially at a full recline, you'll definitely need to look elsewhere.
Waterfall edge
No complaints here. The seat curves down in front, plus it flexes, preventing any blood flow problems that arise from a stiff support beam at the seat edge.
Steelcase Think Task Model V2 For Sale
Forward tilt
There's no forward tilt option, although with the waterfall edge, it's easy enough to lean forward without running into discomfort.
Conclusions on the Steelcase Think Chair
Steelcase Think Task Model V2 2
Though I was mostly frustrated with the Steelcase Think, a few of the frustrations are minor, and partially subjective. I like the 4-dimensionally adjustable armrests, and the overall comfort of the seat, and backrest. It's soft, comfy, conforms really nicely to various body shapes, and flexes left or right to follow you along if you lean either direction. Due to the tensioned wires in the backrest, as well as the seat height and depth adjustment, it'll accommodate users of various sizes quite nicely, and feels quite forgiving when sitting fully or mostly upright.
That said, I can't say I'm a fan of the recline mechanism. It feels very much like a backrest-tilt only, which creates the sensation as though you're sliding forward in the seat, and with the seat riser lifting you upward as you recline, you'll lose contact with the lumbar region entirely at about halfway back.
My biggest problem was the not-so-adjustable "self-adjusting" backrest tension mechanism. While I like the idea of a semi-self-adjusting design, using your body weight to adjust the tension, further tweaks would have been nice. I didn't like how the no-resistance setting just drops you back immediately, and I didn't like how the some-resistance setting drops you back to about halfway, then feels like it's shoving you forward, rather than comfortably staying there. Continuous tension would have been better, and an intermediate stage between those two settings would have been helpful, too.
Steelcase Think Task Model V2 Parts
Given those complaints, I can't say it's my favorite, which is a little unfortunate, given that I'm a big fan of Steelcase's other designs. I'd say take a look at the Gesture and Leap, as they offer a lot more in the way of tension adjustments, instead of using a self-adjusting mechanism. This one could be useful as a shared seating option, given the self-adjusting design, and perhaps even as a primary chair for someone who doesn't need significant lumbar support, but I would still prefer the smoother recline mechanisms of those alternatives.
Steelcase Think Version 2
If you still expect the Steelcase Think is for you, it's available through Amazon, as well as Steelcase's website, and certain online retailers such as The Human Solution. Crate and Barrel carries it as well, so that would likely be the most convenient place to check it out in person.